Farm & Nursery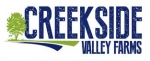 Exhibitor Info:
Creekside Valley Farms is a locally-owned farming operation located in Yamhill County, the heart of the fertile Willamette Valley. Grass seed, and hazelnuts are the main commodities we produce.
Owner Paul Kuehne started Creekside Valley Farms upon graduating from Oregon State University, after growing up in a farming family that has farmed in the area for almost 100 years.

Exhibitor Info:
Our breeding process is meticulous, precise, and methodical. Our nursery products aspire to be the finest in the world. Our dedication to service and grower success are paramount.