Bill's AG Tire Professional Consulting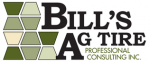 Exhibitor Name:
Bill's AG Tire Professional Consulting
Exhibitor Info:
Bill Schendel has spent years in the agricultural industry; he grew up around it. He's been behind the wheel of tractors, sprayers, and more; he's built sprayers and various pieces of farm equipment. Like all agriculturalists … he's modified it!!
A transition from cultivating, producing and harvesting to selling agriculture tires and wheels that would perform in the ways the farming community needed, created a welcome challenge for Bill. He loves to be the ONE that can come up with the solutions. Taking in all factors: current equipment, needed outcome, and of course, budget — Bill works at creating the best solution for your unique needs.
If you know Bill, then you know that he never stops trying to find improvements for the agriculturalists. Therefore, he has even added tire protectant (Tire Life), tire puncture sealer (PSF Plus) and tire lubricant (Lube-Zit) to his array of solution options.