DeJong Products/DPI Supply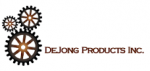 Exhibitor Name:
DeJong Products/DPI Supply
Exhibitor Info:
DeJong Products, Inc. (DPI) specializes in practical solutions for the unique needs of a wide range of customers throughout North America. From apples to vineyard production, golf course to forestry, highway de-icing to repairs, or grass seed production to potatoes, DPI can help with your production needs.
The company began as a farm equipment repair business in the mid-1950. Current owners Michael and Carol Brown purchased the business, from original owner Richard DeJong, in 1984. The business is currently located at 25000 SW DeJong Road, Sheridan, OR. In the years since its purchase, DPI has moved towards custom fabrication and the manufacturing of specialty products.
DPI services and sells it's own equipment, sprayers, other agricultural equipment as well as other items as requested. DPI also manufactures it's own line of commodity conveyors, harvest carts and other specialty equipment.
DPI offers sales, service and parts for several different sprayers for the agricultural sector. They include Raven spray controllers, Spray Systems (Tee-Jets), Greenleaf, Shurflo, Ace, Benjo and Hypro Corporation to name a few.
Whatever your crop, chances are pretty good we know how to help.