Northwest Tillers Inc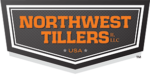 Exhibitor Name:
Northwest Tillers Inc
Exhibitor Info:
For more than 50 years Northwest Tiller has developed and refined tiller technology and has field tested it in the Yakima Valley's tough river rock conditions. Our unique patented belt drive system ensures you get a smoother, finer till, guaranteed. The belt absorbs the shock load of soil and debris, improving the overall life of the tiller, tractor, and PTO. Northwest Tiller is the exclusive manufacturer and seller of belt-drive tillers.