Willamette Community Bank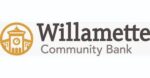 Exhibitor Name:
Willamette Community Bank
Exhibitor Info:
Willamette Community Bank was founded in Albany by citizens and businesspeople to preserve local decision-making and support the community. We remain true to our founding principles in all the communities we serve.
We work hard to stay informed about social and economic developments in agriculture, manufacturing, the service professions, and other business sectors in our local communities. As a result, we're fully prepared to partner with you in making smart financial decisions.
When you choose Willamette Community Bank, you can rest assured that your hard-earned money will be put to work to cultivate the prosperity of your local community, county, and state. We practice responsible reinvestment to promote regional economic vitality.
We're big believers in supporting nonprofits that serve our community's needs, so let's talk if you have a bold new idea that will serve a worthwhile cause.
We're committed to doing what's right for you, your family, and your business. If it becomes clear that our services aren't the best fit for you at any given time, we will direct you appropriately.
Today we have branches in Albany, Lebanon, and Salem. Stop in for a cup of coffee and a chat next time you're nearby. We'd love to get to know you and support your efforts to build a strong financial future for your business, your family, and our community.