Market Supply & Distribution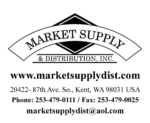 Exhibitor Name:
Market Supply & Distribution
Exhibitor Info:
We are a family owned company in Oregon & Washington specializing in paper and plastic packaging products for both small and large farm, packers, processors and all type food markets. We know how important it is to have quality products and good service. We deal with many paper and plastic manufacturers all over the country to meet your specifications. Our mission at Market Supply & Distribution is to guarantee satisfaction of our customers with each order. We will help you select appropriate products for your needs, deliver fast and accurate quotes and make sure each order is delivered to your door fast from the production floor. Please call, email or check out our website for a detailed description for many of our product solutions. It is our policy to return your phone calls as soon as possible and guarantee that you will hear from us within one business day. We have many new degradable "green" sustainable items. How may we serve you!