CoEnergy Propane, LLC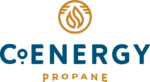 Exhibitor Name:
CoEnergy Propane, LLC
Exhibitor Info:
We're Oregon's Hometown Propane Service Provider, serving our community since 2001, delivering the efficiency and reliability of propane to you when and where you need it. CoEnergy Propane is part of a member-owned co-op. Our sole business is to help our customers thrive in our great community of Central Oregon, the Willamette Valley, and the Oregon Coast. Whether you are heating your home or business, grilling outside, or working on the farm, our team of experts are eager to assist you.