Treffler-Man@Machine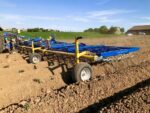 Exhibitor Name:
Treffler-Man@Machine
Exhibitor Info:
Treffler Organic Machinery offers you a complete line of machines for organic and conventional farms.
Interested in mechanical weed control?
Treffler has more than 30 models harrows to choose from. Our harrows are gentle in your young crop and aggressive when you want to break open a crust or combat a lot of weed pressure. Total weed control in all your crops, and for all farmers great and small.